McDonald's newest ad for chicken nuggets ends promoting the hashtag #McDProBowl, highlighting their relationship with the NFL Pro Bowl. Promoting a hashtag with a TV commercial is a first for the brand, but the concept is not new to television.
In 2011, Audi became the first brand to feature a hashtag in a commercial, a trend that exploded by the time the 2012 Superbowl came around. Chris Hardwick interrupted a torture scene during The Walking Dead to promote the hashtag #MakeItStop and his zombie-centric chat show, Talking Dead.
Hashtags have been embraced by brands because they give them something that they've never really had before – a simple, direct call-to-action for conversation. However, in order to be effective they need to be baked into a deeper plan for interaction between brand and consumer – and not just stuck in there.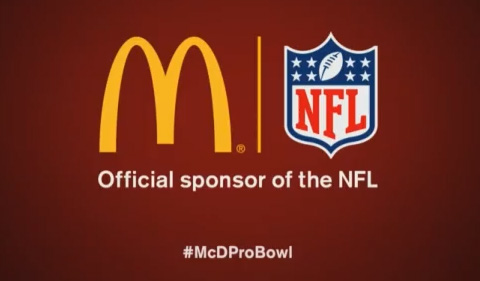 Let's take a look at how McDonald's hashtag is doing. A search for #McDProbowl on Twitter reveals that most of the conversation is focused on … the fact that McDonald's is using a hashtag. It may have more legs once it gets closer to the actual NFL Pro Bowl taking place, but for now they seem to have reached advertising nerds, not football fans or the audience they tried to target.
So why didn't it work in the immediate? Could it be that the commercial itself has to do with a chicken nuggets special that is in no way associated with the NFL Pro Bowl? Could it be the awkward correlation it makes between dunking a chicken nugget and dunking a football (?). Perhaps it's that the commercial makes no mention of the contest to win tickets to the Pro Bowl – probably the best potential driver for conversation.
No doubt there are plans to expand on the potential of the hashtag in the coming weeks before the Pro Bowl – but for now it just seems kind of stuck in there.