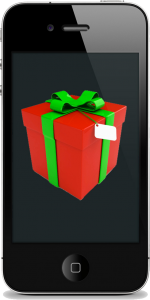 The holiday shopping season kicked off this week with Black Friday and Small Business Saturday. But the big news this week was Cyber Monday. While in-store sales on Black Friday were down 1.8% this year, Cyber Monday sales went up 30%. An even further sign of the changing times, mobile sales on Cyber Monday doubled – making up 13% of online purchases, with the iPhone and iPad leading the charge.
This comes alongside a study released by Pew Internet that basically says what everyone already knows – consumers are doing more and more on their smartphones: recording video, checking bank accounts, getting health information and, yes, shopping on Cyber Monday.
And despite the fact that we'll keep getting updates on the rise of mobile traffic every Cyber Monday for the next few years, it's clear that the tipping point for mobile has already happened and marketers must plan accordingly with mobile-specific strategies.
In Jon Steinberg's article for Ad Age, he proposes that developing a "mobile strategy" to go along with your digital strategy misses the point and importance of mobile. It's like having a "laptop strategy" in the 1990s, while laptops were seeing a growth in market share and usage similar to mobile devices now. Except that the differences between how someone interacts with a laptop vs. a desktop are minuscule, while the difference in behavior between laptop and mobile are a paradigm shift.
Developing a strategy about how someone will interact with your brand on a mobile device vs. a desktop experience is essential to creating a successful mobile experience. A mobile strategy should not be a side project – understanding and calling out the opportunities and drawbacks to mobile devices is essential.